8 Fiber MPO Cables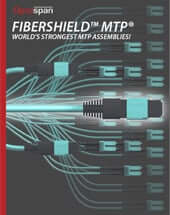 8 Fiber MPO Cables utilize the original multifiber connector, the MPO connector, which hosts a high amount of individual fiber strands. Currently the most common densities include 12 fiber and 24 fiber connectors. The 8 fiber MPO cable is able to establish up to 8 individual fibers for information using only two connection points, reducing the negative effects of insertion loss experienced from large amounts of individual connectors.

All 8 fiber MPO cables feature OptoSpan's new and exclusive FiberShield design. The FiberShield design uses three times the PVC jacket and DuPont Kevlar to protect the delicate optical fibers located inside the cables, resulting in a flexible yet robust 4.5mm cable that is 5x stronger than the standard 3.0mm cable.
These 8 Fiber MPO cables are most often used to establish high performing and reliable 40G (40GBASE-SR4) links, for example, between a QSFP+ to QSFP+ solution. The introduction of parallel optics has elevated the importance of multi-fiber connectors; data transmission rates of 40G and higher require additional fibers and high density patch panels. Alternative applications for 8 fiber MPO cables include creating back-end trunk connections between fiber patch panels, and reducing the amount of individual fiber patch cables, thereby reducing clutter, cost, and safety hazards.
SanSpot MTP / MPO network design engineers can evaluate your unique situation and recommend a suitable complimentary cable configuration. Contact us toll-free at 1-800-720-3860 or email sales@sanspot.com.
For additional information, view our other MPO Cables pages such as Plenum MPO Fiber Cables, MPO to LC Breakout Cables, or Plenum MPO to LC Breakout Cables.
To browse other Fiber Optic Cables, please see MTP Cables, MTP Elite Fiber Cables, Armored Fiber Cables, Fiber Patch Cables, Breakout Fiber Cables, Bend-Insensitive Fiber Cables, Bulk/Bare Fiber Spools, Specialty Fiber Optic Cables, or Fiber Pigtails.