CWDM Mux/Demux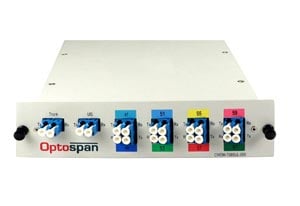 CWDM Mux/Demux OptoSpan presents passive optical CWDM multiplexer/demultiplexer modules providing long distance coverage with premium optical technology to enhance fiber optic systems. These optical mux/demux modules provide low-cost bandwidth and are easy to upgrade with system expansion. Delivering low insertion loss, CWDM multiplexer and demultiplexer modules hold up to 16 connections of different standards and data rates over one fiber optic link without disruption. Supports ESCON, ATM, Fibre Channel, and Gigabit Ethernet over each port Compatible OptoSpan Optical Transceivers available for all multiplexer/demultiplexer modules. Requires optical transceivers and Fiber Optic Cables for use. Also offering out of the box SAN Extension Bundles for rapid and efficient solutions.
For more CWDM/DWDM products, please see Bidi Box Fiber Converters, DWDM Mux, Demux, or SAN Extension Bundles.
To browse other Patch Panel & WDM products, please see Fiber Patch Panels, Patch Panel Enclosures, Fiber Cassettes, and Fiber Adapter Panels.