CWDM Mux/Demux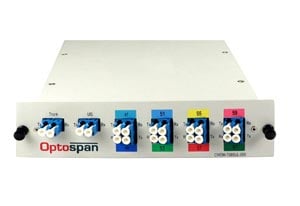 OptoSpan's premium CWDM Mux/Demux units are passive devices which are able to combine multiple wavelengths of varying widths for propagation through a single duplex LC fiber cable. Course Wavelength-Division Multiplexers (CWDMs) reduce overall network complexity, maintain long distance fiber cables to a minimum, and allow for a more cost-efficient high-performance fiber network. Each CWDM device accepts up to 8 unique wavelengths of varying standards and data transmission rates, for delivery across a single fiber patch cable. Pair these premium CWDM units with OptoSpan specialty fiber patch cables and high-performance transceivers for a complete low-cost fiber optic networking solution.
SanSpot network design engineers can evaluate your situation and recommend a complimentary configuration for your unique network. Contact us toll-free at 1-800-720-3860 or email sales@sanspot.com.
For more CWDM/DWDM products, please see Bidi Box Fiber Converters, DWDM Mux, Demux, or SAN Extension Bundles.
To browse other Patch Panel & WDM products, please see Fiber Patch Panels, Patch Panel Enclosures, Fiber Cassettes, and Fiber Adapter Panels.