Rack-Mount Patch Panel Enclosures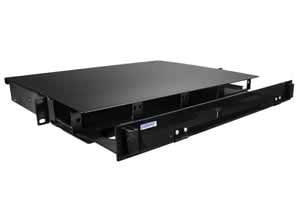 OptoSpan Patch Panel Enclosures are available in 1U, 2U, and 4U heights and may be configured to offer dozens of high performance networking solutions. Ultra Elite, High Density, and MPO Patch Panel Enclosures each bring their own unique set of features in order to accommodate a wide range of requirements. The Ultra Elite Series features the industry's most shallow fiber patch panels, measuring only as deep as the depth of its fiber cassettes; only up to 7". High Density Series Patch Panel Enclosures accept standard LGX form factor and are therefore able to leverage the immense selection of LGX fiber cassettes, modules, and plates offered by dozens of manufactures. Finally, the MPO Patch Panel Enclosures are among the most cost-efficient and economical fiber optic patch panels available, allowing the deployment of high performance fiber cabling without imposing excessive financial strain.
Patch Panel Enclosures by OptoSpan are able to provide LC, LC/APC, SC, and MPO connections along with support for Single-mode (OS2) and Multimode (OM4) fiber specifications. The High Density Series is compatible with any LGX fiber cassette, fiber plate, or fiber module available by OptoSpan or 3rd party providers. Additionally, all patch panel enclosures come with a complete set of mounting hardware.
SanSpot network design engineers can evaluate your situation and recommend a complimentary configuration for your unique network. Contact us toll-free at 1-800-720-3860 or email sales@sanspot.com.
To browse other Patch Panel & WDM products, please see Fiber Patch Panels, Fiber Cassettes, Fiber Adapter Panels, and CWDM/DWDM.