Advanced CWDM / DWDM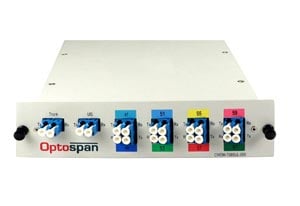 OptoSpan offers a wide selection of Wavelength-Division Multiplexers (WDMs), converters and Optical Transport Networking (OTN) equipment, which allow for lower networking cost, lower complexity, and enhance fiber optic systems. These optical modules provide low-cost bandwidth and are easy to upgrade with system expansion. The OptoSpan Bidi Box Fiber Media Converter adapts duplex fiber patch cables to simplex, essentially enabling bidirectional communication over a single fiber strand. The CWDM and DWDM mux/demux systems enable fiber networks to transport multiple wavelengths across a single duplex cable. CWDM mux/demux accepts up to 16 channels, while the DWDM mux/demux accept up to 40. Each mux/demux port fully and independently supports ESCON, ATM, Fibre Channel, and Gigabit Ethernet.
SanSpot network design engineers can evaluate your situation and recommend a complimentary configuration for your unique network. Contact us toll-free at 1-800-720-3860 or email sales@sanspot.com.
To browse other Patch Panel & WDM products, please see Fiber Patch Panels, Patch Panel Enclosures, Fiber Cassettes, and Fiber Adapter Panels.