Armored Fiber Cables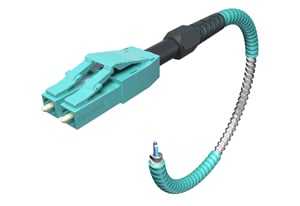 OptoSpan presents premium fiber optic cable assemblies enclosed within military grade steel jacketing, the
SteelPatch
and
SteelFlex
Armored series. Both of these rugged assemblies allow for optical fiber to be installed even in the most hazardous of areas including environments with excessive dust, oil, gas, moisture, or even damage causing rodents. These steel jackets provide unparalleled protection against physical damage without sacrificing flexibility or functionality within fiber networks.
OptoSpan SteelFlex Armored cables feature an exclusive OptoLock mechanism comprised of a steel metal tube that is locked into position by overlapping links. This composition results in an unmatched rugged, but light weight cable that provides maximum flexibility.
Available in a variety of configurations including OS2, OM1, OM2, OM3, and OM4 along with common connectors such as the LC, SC, FC, and ST these fiber cables are the perfect addition to any fiber network in hazardous environments. MTP, MTP Elite, and MPO also available in straight and breakout permutations.
To browse other Fiber Optic Cables, please see MTP Cables, MPO Cables, MTP Elite Cables, Fiber Patch Cables, Breakout Fiber Cables, Bend-Insensitive Fiber Cables, Bulk/Bare Fiber Spools, Specialty Fiber Optic Cables, or Fiber Pigtails.
Filter
Shopping Options
Category