SteelPatch Armored Cables
SteelPatch Armored Cables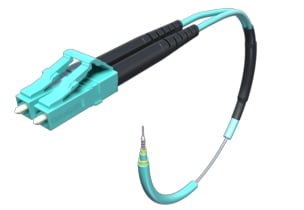 OptoSpan presents military grade SteelPatch armored fiber optic cables designed for the harshest environments and most severe conditions without compromising flexibility. This premium steel cable maintains maximum protection with SteelPatch armored constructed from Kevlar and steel, to ensure uninterrupted optical information under heavy crush loads, natural destruction, or even animal damages, while additionally maintaining the premium flexibility needed for tight corners or spaces.
Choose between simplex, duplex, 6, 8, 12, 24, or 48 fibers in a SteelPatch Armored jackets in a variety of lengths. Each available in single mode or multimode for several permutations of LC, SC, FC, ST, and MTRJ connections with Ultra Polished or Angle Polished Connectors (UPC or APC). MTP/MPO & MTP Elite fiber and breakout style options available. SteelPatch armored cables available for purchase in bulk spool.
For additional information, view other Armored Fiber Cables, such as SteelFlex Armored Fiber Cables.
To browse other Fiber Optic Cables, please see MTP Cables, MPO Cables, MTP Elite Cables, Fiber Patch Cables, Breakout Fiber Cables, Bend-Insensitive Fiber Cables, Bulk/Bare Fiber Spools, Specialty Fiber Optic Cables, or Fiber Pigtails.
Available Configurations:

Single-mode and Multimode Fiber
SteelPatch Armored Jackets
Permutations of LC, SC, FC, ST, MTJR, MPO, MTP, & MTP Elite Connector Types
Duplex/Simplex/Multi-fiber (6-48) Fiber Count
50/125μ, 62.5/125μ, 9/125μ Core/Cladding Diameter
Riser / Plenum rated insulation
UPC (standard) / APC (Angled) Polish

Applications:

Data Center Racks
Desktop/Network Connections
Indoor Networking
Heavy Duty- Indoor/Outdoor
Tactical/Military Harsh Enviornments