SteelPatch Armored Breakout Cables
SteelPatch Armored Breakout Cables
SteelPatch Armored Breakout Cables feature a specialized jacketing that increases the durability of fiber cables by up to 7x, yet retains full cable flexibility. Each breakout fiber assembly is available in Single-Mode (OS2) or Multimode (OM1/OM3/OM4) with fiber strands of 6, 12, or 24 and are able to support data transfer speeds of up to 40/100G.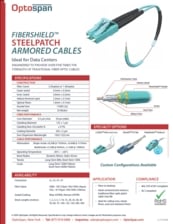 Traditional Riser (OFNR) insulation comes standard within each fiber cable but may be substituted with the fire-resistant Plenum (OFNP) insulation often required by strict building regulations to reduce damage in the event of a fire. This series of breakout fiber cables utilizes popular connection types such as LC, SC, or ST and are available in 2 to 100 meters with additional lengths available upon special request.
For additional information, view other Armored Fiber Cables, such as SteelFlex Armored Fiber Cables, such as SteelPatch Armored Patch Cables, SteelPatch Armored MTP Cables, SteelPatch Armored MTP Elite Cables, SteelPatch Armored MPO Cables, SteelPatch MTP Breakout Cables, SteelPatch MTP Elite Breakout Cables, or SteelPatch MPO Breakout Cables.
To browse other Fiber Optic Cables, please see MTP Cables, MPO Cables, MTP Elite Cables, Fiber Patch Cables, Breakout Fiber Cables, Bend-Insensitive Fiber Cables, Bulk/Bare Fiber Spools, Specialty Fiber Optic Cables, or Fiber Pigtails.