At SanSpot, our success is driven by consistently keeping up with the latest essentials for modern data centers with new and innovative Specialty Fiber Optic Products. Each product has been constructed with specific requisites in mind to create simpler, more efficient networking, while minimizing any installation time.
Check out some of OptoSpan's newest innovations for Optical Networking: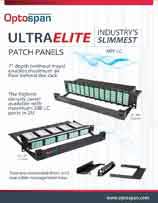 MTP Ultra Elite Fiber Optic Patch Panels are the slimmest patch panels available in the industry at only 7" deep; enabling maximum air flow behind the rack for better network performance. With 288 LC ports in 2U, these patch panels are the highest density panels available.
SteelFlex Armored Fiber Cables provide extra protection for deployment in harshest indoor and outdoor conditions where additional ruggedness and rodent resistance is essential. Flexible yet rugged, these light weight armored fiber cables are ideal for heavy crush loads or military grade applications as they offer perfect combination of flexibility and endurance.
UltraHD™ High Density LC Fiber Cables increase patch panel density by 60% with slim, close-stacking connectors. These fiber cables are designed with a 3.0mm flexible boot, and a sturdy Push-Pull tab which allows easy insertion and/or removal from extremely dense panels without the use of any tools.
LC-Trace Traceable LC Fiber Cables help identify each termination point with flashing LED lights on each end of the cable; preventing unauthorized network interruption due to disconnecting an incorrect fiber cable. Simply push the button, visually notice the flashing light on each end, and disconnect the appropriate cable within seconds.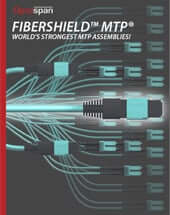 OptoSpan's 12 and 24 fiber MTP cables feature our new and exclusive FiberShield design. The FiberShield design uses three times the PVC jacket and DuPont Kevlar to protect the delicate optical fibers located inside the cables, resulting in a flexible yet robust 4.5mm cable that is 5x stronger than the standard 3.0mm cable.
LCElite™ Ultra Low Loss Fiber Cables are among the highest performing fiber cables available, featuring a rugged single-piece body connector with a latch trigger up to 4x stronger than standard connectors. While ordinary LC fiber cables maintain an insertion loss of 0.30dB, Ultra Low Loss LC Fiber Cables produce an insertion loss of only 0.12dB, providing exceptional performance and lower power consumption. LCElite fiber cables feature a flexible boot capable of being bent into any direction and maintain its position, to reduce congestion in high density areas.