40G QSFP+ AOC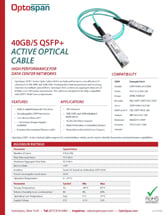 OptoSpan QFSP+ Active Optic Cables (AOC) are high performance, cost-effective I/O solutions for LAN, HPB, and SAN. With 4 independent data transmission and receiving channels via multiple optical fibers, OptoSpan AOCs achieve an aggregate data rate of 40Gbps over 100 meters transmission. The cables are designed to be fully compatible with QSFP+ Multi-Source Agreement.
With many options to choose from, finding the appropriate fiber optic cable may be puzzling. If further assistance is needed, call 800-720-3860 and a helpful and professional engineer will gladly assist you in making the correct decision.
For additional information, view our other 40G & 100G AOC pages, 100G QSFP28 AOC, QSFP+ to 4xSFP+ AOC Breakout, and QSFP28 - 4xSFP28 AOC Breakout.