100G QSFP28 AOC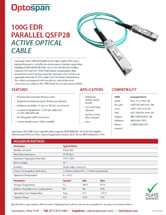 OptoSpan 100G QSFP28 Parallel Active Optic Cables (AOC) are a high performance, cost-effective interconnect solution supporting InfiniBand EDR/QDR/DDR/SDR, 25G/12.5G/10G/8G/4G/2G fiber channel, PCIE and SAS. With 4 full-duplex, independent data transmission and receiving channels, OptoSpan AOCs achieve an aggregate data rate of 101.6 Gbps over 100 meters transmission. The cables are designed with form factor, optical/electrical connection according to the QSFP Multi-Source Agreements (MSA).
With many options to choose from, finding the appropriate fiber optic cable may be puzzling. If further assistance is needed, call 800-720-3860 and a helpful and professional engineer will gladly assist you in making the correct decision.
For additional information, view our other
40G & 100G AOC
pages,
40G QSFP+ AOC
,
QSFP+ to 4xSFP+ AOC Breakout
, and
QSFP28 - 4xSFP28 AOC Breakout
.