1U Patch Panel Enclosures
1U Patch Panel Enclosures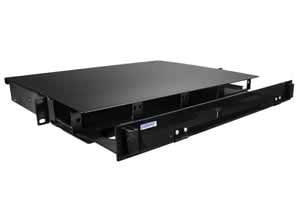 OptoSpan 1U Patch Panel Enclosures feature three series of patch panels offered, including the Ultra Elite, High Density, and MPO series of fiber optic panels. The 1U Ultra Elite Patch Panel Enclosures are the shallowest available, measuring a mere 7" deep when loaded with fiber cassettes. These Enclosures, when loaded, provide up to 120 front Low-Loss LC connections, along with 12 or 24 fiber rear high performance MTP Elite connectors.
1U High Density Patch Panel Enclosures leverage the LGX standard, accepting dozens of conforming fiber cassettes or fiber adapter panels. Included with each High Density patch panel enclosure is a complete splice kit, including splice trays and fiber pigtails. 1U MPO Patch Panel Enclosures remain the most economical solution to high performance fiber networking, and are the only patch panels which offer up to 48 individual front SC connectors, when loaded. Pair these 1U Patch Panel Enclosures with OptoSpan Fiber Cassettes or Fiber Adapter Panels for a low-cost 10G, 40G, or 100G solution.
SanSpot network design engineers can evaluate your situation and recommend a complimentary configuration for your unique network. Contact us toll-free at 1-800-720-3860 or email [email protected].
For more information on Patch Panel Enclosures, please see 2U Patch Panel Enclosures, or 4U Patch Panel Enclosures.
To browse other Patch Panel & WDM products, please see Fiber Patch Panels, Fiber Cassettes, Fiber Adapter Panels, and CWDM/DWDM.