CWDM / DWDM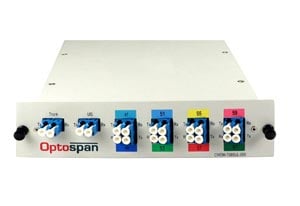 OptoSpan offers a wide selection of Wavelength-Division Multiplexers (WDMs), which allow for lower networking cost, lower complexity, and enhance fiber optic systems. These optical modules provide low-cost bandwidth and are easy to upgrade with system expansion. The Bidi Box Fiber Media Converter adapts duplex fiber patch cables to simplex, essentially enabling bidirectional communication over a single fiber strand. CWDM and DWDM mux/demux units enable fiber networks to transport multiple wavelengths across a single duplex cable. CWDM mux/demux accepts up to 16 channels, while the DWDM mux/demux accept up to 32. Each mux/demux port fully supports ESCON, ATM, Fibre Channel, and Gigabit Ethernet. Storage Area Network (SAN) extension bundles are also available, complete with all necessary equipment required to achieve up to 128Gbps data transmission rates over a duplex connection.
SanSpot network design engineers can evaluate your situation and recommend a complimentary configuration for your unique network. Contact us toll-free at 1-800-720-3860 or email sales@sanspot.com.
To browse other Patch Panel & WDM products, please see Fiber Patch Panels, Patch Panel Enclosures, Fiber Cassettes, and Fiber Adapter Panels.